Best Fat Tire Electric Bike For Hunting 2023
---
As an AmazonAssociate and Affiliate Marketer, I earn from qualifying purchases. Although I may get a small commission, I strive to provide honest reviews of products to keep my readers happy! Full disclosure
---
For many people, hunting is a way of life that has been passed down to them by their ancestors and is a time to bond with family and live off the land as our ancestors did. It's no different than how many families have specific hobbies and traditions that they do together. For Hunters, this is their tradition and way of life.
Although hunting is an art that has been passed down generation after generation, with new technology, people are finding easier ways to hunt without taking away from the actual art of hunting. One of those ways is utilizing fat tire electric bikes for hunting. A good fat tire electric hunting bike allows you to go check your trail cameras or to get to your stands quickly and efficiently. Also, electric bikes are very stealthy, they don't make much noise so you won't scare away the animals like with a car or truck.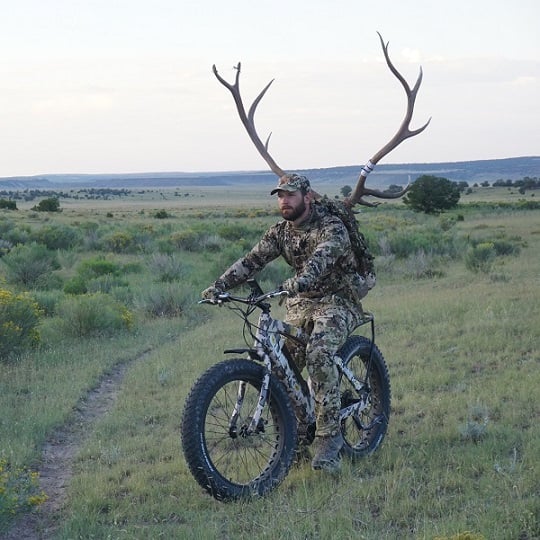 Having a fat tire mountain bike lets you navigate through difficult terrain. The fat tire electric bikes are made for riding through mountains and on rough terrain. Also, many of the bikes that we will go over today are specifically made for hunting. There are 3 major brands that focus on E-bikes. eBike Generation stocks all three of these options and is very knowledgeable on the topic. Click here to head over to eBike Generation to see their full inventory of Bikes. Their bikes feature camouflage, quiet operation, scentless materials, and the perfect accessories for all your hunting needs.
While the 3 brands mentioned above make great hunting bikes, I'll provide some competitors as well that are great alternatives to eBike Generation. The alternatives have their benefits too, some feature longer charge ranges or faster speeds but none of the other ones come with camouflage.
9 Best Electric Hunting Bikes of 2023
1. Bakcou Mule Elite Review – Hunter Package
Bakcou Mule Elite Features
Hunting Trailer & Pannier Bags Included
Panasonic 48v Battery with 14.5ah, 17.4ah, or 21ah
40+ Mile Charging Range
300 lbs. Load Capacity
Available In Variety of Colors
Offered in 750 & 1000 Watts
Fits Riders 5'9″ to 6'4″
The Bakcou Mule Elite with Hunter Package is one of the best sellers in electric hunting bikes. Bakcou is a company founded by outdoorsmen for outdoorsmen and their bikes are a perfect expression of their love for wildlife and the outdoors. In designing their electric hunting bikes, Bakcou focused on creating a way for hunters and other outdoorsmen to navigate through vast terrains with minimal disturbance and pollution to wildlife. Through years of research and development they came up with two prestigious electric hunting bikes and the Bakcou Mule is the most noteworthy.
The Bakcou Mule features Bafang's Ultra mid-drive Motor which is an industry favorite, it's basically the diesel engine when it comes to e-bike batteries. The Bafang motor features Heavy Duty Metal Gearing that is built to last, unlike many other e-bikes on the market. This e-bike motor can muscle through tough terrain and inclement riding conditions with ease. The motor features an integrated torque sensor so that it can determine how much force you're putting on the pedals. Instead of just giving a basic output that makes you feel like you could get bucked off your bike, it is able to adjust the torque to your desired level.
One of the most common questions people have about their new electric hunting bike is "How long does a charge last and how fast can I go?". While this seems like a simple question, there's a lot that goes into figuring this out. How long a charge lasts depends on a variety of things. Your weight, terrain, wind, battery age, as well as other factors can influence your trip distance but luckily the Mule comes with an LCD display that displays battery usage so you can gauge how far you have left. The battery should last anywhere between 25 and 35 miles depending on these variables.
The speed of the bike depends on similar variables but mainly is dependent on whether you choose the 750 Watt eBike or the 1,000 Watt eBike. The 750 Watt model bolsters a top speed of 25+ mph while the 1,000 Watt model can push speeds of 30+ mph. Again, these speeds can vary based on other factors.
The Bakcou Mule Hunters Package comes with a trailer, dual-use pannier bags, and a repair kit. This is the best value, but you can choose to buy them separately later if you would like. One additional accessory that I would recommend is the Bakcou Solar Panel Charger. No one wants to have their battery die on them while they're out hunting. By getting this charger, you'll be able to recharge your bike on the go.
Overall, the Bakcou Mule is an amazing electric bike for hunting. You won't be disappointed with your purchase! If you would like to learn more about this amazing bike, click the button below.
2. Bakcou Mule Elite Step Through Hunting Bike Review
Bakcou Mule Elite Step Through Features
Hunting Trailer & Pannier Bags Included
Panasonic 48v Battery with 14.5ah, 17.4ah, or 21ah
40+ Mile Charging Range
Lower Top Tube
Smaller Frame Size
24″ or 26″ Fat Tire Options
Fits Riders 4'10" to 5'7″
The Bakcou Mule Elite Step Through Hunting Bike is very similar to the #1 pick on this list, the Bakcou Mule Elite. Realistically the foundation of this bike is the same as the other one but this one has some size adjustments to make it accessible to a variety of body types. The normal Bakcou Mule Elite is an industry favorite, but some of the complaints that were received when it comes to that bike were it's a little too big for some smaller riders.
Bakcou is an amazing company and listened to the feedback of its customers and in response, they released the Bakcou Mule Elite Step-Through Electric Hunting Bike. The Step-Through version features a lower top tube so that shorter riders wouldn't be hindered by the top tube when standing over the bike. The top tube of this eBike sits at 26″ while the top tube of the standard Bakcou Mule sits at 29.5″.
This version of the Mule also comes with a smaller frame and smaller suspension which overall gives more control to the smaller riders. You also have the option of switching the standard 26″ to 24″ fat tires which will give the bike a slightly lower standing height. With all the frame and bike adjustments of the Step through Mule, it is perfect for your female hunters out there!
The Mule's frame is made of a durable but light Aluminum Alloy Frame and has a detailed LCD display attached to the bars. The display gives you all the necessary information such as a speedometer, battery life/usage, pedal assist level, and a trip meter.
A standard Mule battery takes around 4.5 – 5 hours to reach a full charge and that charge lasts between 25 and 35 miles depending on variables such as current weight load, terrain, wind, battery age, etc. With these factors in mind and how far you plan on going out for your hunts, it may be worthwhile to pick up a solar-powered battery charger. This will allow you to recharge your battery on the go without any worries. You'll always be able to get home.
Overall, the Bakcou Elite Mule Step-Through is an amazing electric hunting bike for shorter riders. If you purchase this hunting e-bike, I'm confident that you will be happy with your purchase. If you would like to learn more about this amazing hunting bike, click the button below.
3. Delfast E-Bike Review
Delfast Electric Bike Features
Long-Lasting Battery
Full light system with high beams
High Top Speeds
Fat Tire design
High Power For All Terrains
The Delfast Electric Bike is an amazing eBike. It currently holds the Guinness World Record for the longest electric bike ride on a single charge at over 228 miles and that's without pedaling. The Delfast Electric Bike isn't specifically a hunting e-bike but it's definitely worth looking at and using as an electric hunting bike. The ability of this bike to go 228 miles can be great for long hunts without the need for re-charging.
The best part of the Delfast Electric Bike is that you get the power of a dirt bike without the motor, so there's no pollution and less noise.
A little backstory on Delfast, Delfast has been making electric and motorized bikes since 2014 but recently made their Delfast Top 3.0. The Top 3.0 is now their flagship bike. It can reach speeds of up to 50 mph and has a range of 200+ miles. While it can reach speeds of 50 mph, they incorporated different speed limit modes in the bike so that you can safely ride it in different environments and adhere to local laws. Electric bike laws are different in every area, so make sure to consult your local laws before taking your new electric bike out for a ride.
The Delfast E-Bike Features fat tires that are great for offroading and paved roads. This bike will be more versatile than your standard hunting bike. If you get it registered as a motor vehicle you can even use it to commute into the city. In rural areas, it's common to use dirtbikes to commute to neighbors' and friends' places but with this bike, you could have an all-in-one solution that preserves the environment but operates with the power of a motor.
The Top E-Bike Comes with a QS V2 IPX5 Motor with 3000 Watts of power. With this much power, you'll have no trouble hauling a bike trailer or getting through difficult terrain or inclines.
Overall, the Delfast Electric Bike would be the most versatile, it can be used for hunting or running errands. It has the longest range on this list which would be great for long adventures and hunts. This bike is a great all-around e-bike option. If you would like to learn more, click the button below.
4. Quietkat Ranger Electric Hunting Bike Review
Quietkat Ranger Electric Hunting Bike Features
Available in 750 & 1000 Watts
17″ and 19″ Frame Size Options
Charcoal, QK Camo, and Timber Camouflage Design
48v Panasonic Battery
Hydraulic Suspension
Mechanical Brakes With 180mm Rotor
7-Speed or Singlespeed Option
Fat Tires for Rough Terrain
The Quietkat Ranger is a great electric hunting bike and gives you an amazing bang for your buck. This is one of the less expensive options on this list but when it comes to features, performance, and popularity this hunting bike is still one of the tops in its class. In its price point, the Quietkat Ranger E-bike is one of the best on the market.
The Ranger Electric Hunting Bike by Quietkat comes in 750 & 1000 Watt options. It has more than enough power to get you to your desired hunting spot even in rough terrain. It also has enough power to hall all of your essentials. It has a load capacity of 300 lbs. So, if you buy a trailer with it, you'll be able to bring everything you need in one trip!
Even though it has great power, you won't scare off the animals. As you can tell by their company name these electric hunting bikes are quiet! No more scaring off your hunt with an ATV making your trip pointless. Having a Quietkat bike will let you navigate in and out of the wilderness swiftly and quietly. You'll be like a Quiet Cat!
The Quietkat Ranger has amazing customer reviews too. You can see the reviews by clicking on the "Learn More" button below. The only negative that people have when it comes to this bike is that the instructions are a little thin. So, it can take a little more time than it should to properly assemble. Even with the thin instructions, people stated it only took about 20 minutes to assemble. That's still pretty fast assembly. If it had better instructions, it might only take 5-10 minutes though.
The speed of the Quietkat Ranger is great for getting to your stands with ease. It comes with 7 Speed gearing and has a quick drop-out wheel design so you can switch to single-speed gearing with ease.
The Ranger's battery is hidden within the frame, unlike many e-bikes. The battery reaches a full charge in 6 Hours. So, make sure you plug it up ahead of time so that it's ready when you're ready for the hunt. The battery has a range of up to 40 miles depending on environment variables and load.
You won't be disappointed with the Quietkat Ranger Electric Hunting Bike. It's one of the best electric hunting bikes in its price range. If you're ready to hunt with the Quietkat Hunting Bike, click the button below to learn more and get started.
5. Rambo Roamer 750W XC Electric Hunting Bike Review
Rambo Roamer E-Bike Features
Bafang 750W High Torque Mid Drive Motor
5 Speed Gear System
35 Mile Riding Range
Rear Rack and Fenders Included
48V Samsung Battery
The New Rambo Roamer is my favorite hunting e-bike by Rambo. It comes with a high-powered Bafang 750W Mid Drive Motor. This motor combined with the upgraded 5 Speed Gearing system will allow you to climb bigger inclines than the previous Roamer versions.
In this new model Rambo Roamer they also upgraded the battery to increase your riding range. You can ride for up to 35 miles on a single charge but having a bigger battery can increase the charging time. Make sure you plug it up early so that your hunt doesn't get delayed by hours waiting for it to charge. If you're going to be going on very long hunts, you can look into getting a solar panel bike charger to charge on the go, or there are other options on this list with a longer riding range.
Riding the Rambo Roamer feels amazing and the power delivery is smooth. The only complaint that people have about this bike is how heavy it is. The e-bike does weigh 63 lbs. but for the people complaining about weight, it may be their first e-bike though because e-bikes tend to be on the heavier side since they have to house a motor and a good-sized battery. In addition to that, you want them to be sturdy since you could be riding through rough terrain when hunting.
The Rambo Roamer has amazing fat tires on it! The fat tires are made of Kevlar, so even while navigating rough terrain out in the forests for your hunts, you will have very high resistance to punctures and flats. I'm sure you know since you're hunters but for those that don't Kevlar is a very strong and heat-resistant material that is used in the creation of bulletproof vests. So, you really shouldn't have any problems with flat tires or punctures but you can never say never.
The Rambo Roamer is a great fat tire electric hunting bike and I'm sure it will meet all your needs, if you'd like to learn more, click the button below.
6. Rambo R750 26 Pursuit Electric Hunting Bike Review
Rambo R750 Features
Bafang 750W BBS02 High Torque Motor
Samsung 48V 14AH Battery
3 Speed Sturmey Archer Rear Hub
Anti Puncture Fat Tires by Kenda Krusade
Some Accessories Included
The Rambo R750 is one of the least expensive on this list, so, it is a great bang for your buck. Overall, hunting e-bikes are pretty expensive but this one is just a couple thousand dollars instead of several thousand like the others (at the time of writing).
Even though this bike is on the cheaper side, the people that buy this bike are still very satisfied. It's an excellent bike and typically receives 5 stars from its buyers.
The Rambo R750 e-bike features a battery with a range of up to 35 miles with pedal assist and 19 miles on pure electric mode. With any e-bike that you buy, you'll get a longer range with pedal assist than you will with full throttle mode because the bike has to work harder. If you need a range longer than this, you'll have to look at some of the more expensive options but for most this range is more than enough to get to their stands and go out on hunting trips.
This bike may be on the cheaper side but Rambo still came through will quality components. It features a Bafang 750W Mid Drive Motor that can handle all the uphill rides and terrain that you throw at it. For most, this bike will be more than enough for your hunting trips.
This e-bike is also very sturdy. It features a rustproof aluminum frame, so, you know it'll be able to hold up on any adventure you take it on. It can survive mud and rainy weather. Even the battery is sealed so you don't have to worry about a bit of water getting on it.
This bike comes with front and rear fenders and a rear rack when you click the button below and buy at eBike Generation.
The fat tires of the Rambo R750 feature anti-puncture material so that you can be confident that you won't get a flat while riding through the woods. No one wants to get a flat tire while out on a ride, especially if they're hunting or hauling in their kill.
The Rambo R750 is a reliable fat tire hunting e-bike that most will be very happy with. Some may need or want the extra features, battery life, or speed of ones higher up on this list, but there's really no need to spend the extra money if this meets your standards! Click the button below to learn more!
7. Bakcou Storm Review – Hunter Package
Bakcou Storm Features
Available with 750W or 1000W Motors
Comes in 3 colors Black, Desert Tan, and White
17.4AH or 21AH battery
Comes with a trailer and extra accessories
26″ Control Maxxis Minion Fat Tires
The Bakcou storm is up there with the Bakcou Mule in terms of performance, it might even be a bit better than the Bakcou Mule, but the storm also costs a bit more than the Mule for a limited amount of extra features and performance. Realistically looking at the Bakcou Storm vs Bakcou Mule is comparing to elite electric bikes that most wouldn't be able to tell apart. For those few that can, the extra money will be very worthwhile but to most, they'll be happy with the cheaper one.
The Storm comes with a full suspension system which will give you an overall smoother ride for an even smoother ride over rough terrain.
The Bakcou storm is offered in 2 power options, the 750W, and 1000 Watt Bafang Motors. Both of these motors give you great power and can climb anything you could imagine. An employee from Bakcou stated, it's not whether or not you can climb it, it's are you able to ride back down after you get up it. Basically, this means there's almost no incline this motor can't handle but if you ride up the steepest incline it can handle it may be too dangerous for you to ride back down it. So, you never really need to worry about if the bike can handle an incline. This bike is also equipped with powerful hydraulic brakes to make the descent as safe as possible.
This e-bike by Bakcou is super quiet and won't alert the animals in the area when you arrive. It also is scentless. Animals have incredible senses so even the slightest smell or noise can make your hunt unsuccessful. With the Storm, you don't have to worry about either. Although it's impossible for a bike to be completely silent because it has to roll on the ground and can run over stuff. The Bakcou Storm is as good as it comes in this area.
The Storm E-bike is a fantastic e-bike but I feel it's priced a little too much for what you get. That's why it's lower on this list than some others but don't think that means this bike is any less capable. This bike is amazing. If you choose this bike, you'll be very happy with your purchase.
If you would like to buy this bike or just see more information, click the button below!
8. Rungu Dualie Rubicon Trail Edition Electric Bike Review
Rungu Dualie Features
Double Front Wheel Design
Comes in Off-Road Use, Pedal Assist Only, or Pedal Assist and Throttle
5 different models for added customization
Available in 2 colors: Green & Black
The Rungu Dualie is unlike any of the other electric hunting bikes on this list. The Rungu Dualie is essentially an electric hunting trike. It features a 3 fat tire design but with 2 wheels and tires in the front instead of the back. Having a 3 wheel design makes it a bit more stable than a normal bike. This bike can stand up on its own without falling over, so you don't even need a kickstand. So, when riding unless riding through very rough terrain or on a hill, you won't have to worry about balancing.
Due to the added stability, this hunting e-trike would be great for older hunters. It will be a bit easier to ride and give you more confidence in your maneuverability.
The steering of this bike features their patented 2 column steering technology. This amazing steering design allows you to turn the 2 front wheels with ease while maintaining superior control.
Each of the 2 front wheels has its own suspension system which makes it easier to go over uneven and rocky terrains. So when one wheel hits a rock, it doesn't immediately tilt you to the other side, causing you to fall. This is one of the amazing design features they came up with when designing the Rungu Dualie.
It features an amazing mid-drive motor with mid and rear gearing. Having dual gearing gives an amazing range of power and speed. This e-bike can ride up incline grades of up to 48% depending on the model that you choose. The standard model can climb grades of up to 34 %.
At an average of 10 mph, this e-trike can ride for between 17 miles and 32 miles on throttle-only mode depending on the model chosen. With pedal-assist it can ride from 19 to 36 miles depending on the model.
The models vary pretty widely, but the core of the Rungu Dualie stays the same. Some come with fenders, skid plates, racks, first aid and tool kits, and much more. The number of options is vast and listing them here would be too much. So, for specifics on each model, click the button below.
Overall, the Ringu Dualie Electric Hunting Bike is an amazing option for riders of all ages. It gives you added stability and comfort so that anyone can enjoy riding them. If you would like to learn more about this amazing e-bike or more so e-trike, click the button below.
9. Rambo Rebel 1000W Carbon XPS Electric Hunting Bike
Rambo Rebel Features
Aluminum Alloy Frame With Carbon Paint
Sealed Motor Design for Water Resistance
GT 860 Air Suspension
Up to 48 Mile Range
Comes With Rack and Fenders
Premium Fat Tires
This Rambo Rebel Carbon Hunting Bike is one of the electric bikes on this list made specifically for hunting that has a long riding range. You can ride up to 48 miles on a single charge. This is most likely with pedal assist, but that's still a long ride compared to others on this list, the only one that beats it is the Delfast Top 3.0 E-bike but that's obvious because Delfast holds the record for the longest e-bike ride on 1 charge.
The Rambo Rebel Fat Tire E-bike features a 1,000W High Torque Mid Drive Motor that gives you more power than most people need. It can climb up inclines like nothing and gives amazing power output.
There are a few reviews on this bike by hunters aged 65+ and they love this hunting bike. One 67-year-old man said that because of this bike he is able to reach his blinds with ease. Having the ability to pedal or not when he wants gives him the ability to adventure and hunt again.
One 70 year old woman said it makes her feel like a kid again. She thought having an arthritic knee would keep her from ever getting on a bike again but now she's able to ride with ease and loves her new e-bike.
This fat tire bike comes with a rustproof frame and water-resistant parts. Even the battery can survive a bit of water. The battery is also a big asset of this bike with a riding range of 48 miles, you'll be able to go out deep into the forest with ease.
The Rebel comes with great suspension and high-performance brakes for a comfortable and safe ride. Overall, this is an amazing fat tire e-bike! If you would like to learn more click the button below.
Buyers' Guide: Choosing the Best Fat Tire E-bike for Hunting
Buying a hunting e-bike can be very difficult with how many options are available. The list above is a great place to start your search for a fat tire electric hunting bike, but if you aren't happy with the options above, here is a list of things to pay attention to when looking for your new e-bike.
Motor
Electric bike motors come in a few main categories: mid-drive, rear hub, and front hub motors.
On hub motors, the motor is inside the front or rear wheels which raises the motor off the ground a little and gives a disproportionate weight balance. The motor of an electric bike is one of the heavier parts on an e-bike.
Having the motor in the mid-drive puts the motor where the pedals connect to the frame. This lowers the center of gravity and puts the wait in a more centralized position. This provides a more stable ride and more consistent power delivery.
Motors come in a variety of power outputs ranging from a couple of hundred watts to thousands. The higher the power typically the higher the top speed, load capacity, and torque.
Frame Size
The frame size is important because different frame size determines the suitable height for the rider.
If the frame size is too large, then you won't be able to stand over the bike and you'll struggle to get on and off it.
If the frame size is too small, you'll feel like you're riding a kid's bike, it'll be cramped and uncomfortable and your legs could hit the bars when you're pedaling.
So, it's important to get the proper frame size for your height. If you're shorter, on the list above, I would recommend the Bakcou Mule Elite Step-Through Electric Hunting Bike. On that one, they lowered the top tube so that the standover height is lower thus allowing riders to essentially step through the frame to get on and off.
Tires
Choosing the right tires is super important, especially on an electric hunting bike. If you're going to be hunting and riding through rough terrain, you definitely want a fat tire electric bike. The fat tire design will make riding over rough terrain and climbing hills a lot easier.
With most of the bikes on this list, except for the Delfast Top 3.0, the bike is specifically made for hunting. The ones made specifically for hunting come with reinforced tires, Kevlar, or anti-puncture tires. When looking into fat tires, if it says any of the 3 things stated previously, then you're pretty safe to assume the tires can hold up through a hunting trip but you want to figure out what you need in the event you do get a flat.
It would suck to get a flat tire while out on a trip and not have the tools to fix it.
Battery
With an electric bike, the battery is one of the most important parts. Without the battery, your bike wouldn't have any power.
When looking at different e-bikes, many come with different-sized batteries. Some even offer the ability to switch to a bigger battery on a specific bike. If this is an option, I would recommend upgrading the battery.
The Battery is essentially your gas tank, the bigger the battery the further you can ride on 1 charge. However, just like cars that have a bigger gas tank a bigger battery will take longer to fill up. So, make sure you look and see how long a full charge would take.
Suspension
The suspension is what makes your bike ride smooth. When dealing with hunting bikes, they're made similar to mountain bikes.
So, they typically come with a suspension system to make riding over rough trails smoother and easier. Some bikes come with a full suspension system others aren't as complex.
If you're going to be riding over rough terrain, through forests, or up hills. You'll want a very good suspension system. Preferably a full air suspension system.
Max Load Capacity
The max load capacity depends on your body weight and what you need to haul with you. If you plan on towing your kills back home after a hunting trip, then you need to make sure that the bike can handle your body weight and the weight of your kill.
In addition to your kill, if you plan on pulling your hunting gear, this can't be more than the load capacity of the bike.
A good load capacity is in the range of 300 lbs. but it can vary depending on the motor and gearing. Also, depending on the terrain you're riding through different load capacities can drain your battery faster or put more strain on the motor. So, having a cushion on the load capacity would be a safe bet, especially through difficult areas.
Speed
The allowed speed of e-bikes varies by local laws, so, make sure the mode that you have the e-bike in your area is legal. However, since you will be using these bikes for hunting you will most likely fall under off-road laws which in many places are a lot more laid back.
Some areas have no limits on off-road speeds but make sure you check your local laws.
A good speed for an e-bike is between 25 and 35 mph but there are some that can go over 50 mph.
Brakes
Brakes are a vital part of your safety when riding an electric bike. When riding on trails you may be riding down steep inclines or be quickly approaching debris.
When this happens you want to know that your brakes will be there to support you.
I recommend hydraulic disk brakes, these are going to be on the stronger side and more reliable so that you can be confident that they will work in any condition.
Gearing
Electric bikes have multiple gearing ratios. On some of the bikes, you can see the different gears just like on a pedaling bike. On other E-bikes, you can't see the gearing because it's all done inside the motor.
Whether it's done inside the motor or on a chain gearing system that you can visually see, having more gears allows for more versatility. Being able to switch to a low gear to climb up a hill will make climbing hills smoother and easier.
I'd recommend a minimum of 3 gears for your e-bike but some of the better e-bikes have 5+ gears. For example, the Rambo Rebel listed above has 11 gears. This bike can handle anything you throw at it from steep climbs to high speeds on flat ground. Having 11 gears may also be why this bike can ride 48 miles on a single charge. It doesn't have to work as hard at certain speeds.
Warranty
Buying a fat tire electric hunting bike is a big investment. You don't want to invest your money in something that might break and you not get anything from it. So, you always want to make sure that your new electric hunting bike comes with some type of warranty.
Even if the bike doesn't come with the best warranty, the retailer that you're buying through may have an additional service warranty that you can purchase to cover the bike. If you're spending thousands on a new electric bike for hunting, spending a couple hundred to protect your investment is well worth it!
Conclusion
Buying a good electric hunting bike is a big step and choosing the right one can be a tough decision. In this list, we gave you the best bikes we could find but there are tons of things to consider when choosing the right bike for you.
So, if the list of bikes on this list isn't right for you, I hope our buyers' guide helped you know what to look for in your next electric hunting bike. We hope you find the perfect hunting bike. If you have any questions feel free to post them in the comments and we'll get back to you ASAP.